Confidently Quinoa
28/08/2018 at 02:55 am
Don't be put off by the fear of mispronunciation...serve up some quinoa (pronounced: keen-wa) at your next dinner party and impress all your friends!
Here's three reasons why you should get confident with this "super" food:
1. Super versatile
Whenever we have people over for a meal, there are invariably multiple dietary requirements that need to be catered for. Vegan, gluten-free, dairy-free, pescatarian... They are all completely reasonable, but it can be a challenge for menu planning!
Quinoa ticks many boxes because it is wheat free, and is also a complete plant-based protein source, so an excellent option for those who don't eat meat. It is actually a seed, but can be used in place of other grains such as rice or couscous.
Also, with its neutral flavour, you can make it either savoury or sweet, and serve it up for breakfast, lunch or dinner.
2. Super healthy
According to the BBC good food website, quinoa is a great health choice as it contains twice the protein content of rice or barley, and is a very good source of calcium, magnesium and manganese. It also contains useful levels of several B vitamins, vitamin E and dietary fibre. It is high in anti-inflammatory phytonutrients, and low-GI. In fact, the UN declared 2013 "International Quinoa Year" in recognition of the crop's high nutrient content!
3. Super simple
Quinoa is very easy to cook - simply rinse and then boil for 12 to 15 minutes.
You'll find lots of great recipes online featuring quinoa. Some of our favourite ways to use it include:
tossing it together with lots of finely chopped parsley, mint, spring onion, tomato, lemon and oil for a fresh take on tabouli

stirring through nuts, dried fruits and a selection of middle-eastern spices for a tasty side dish

boiling it up in almond milk, with a dash of maple syrup and cinnamon, for a delicious alternative to oat porridge.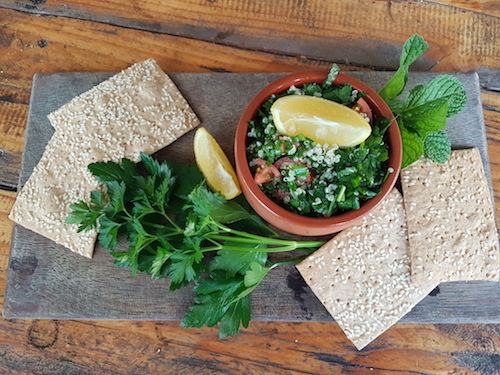 Quinoa is a great alternative to wheat in a tabouli salad